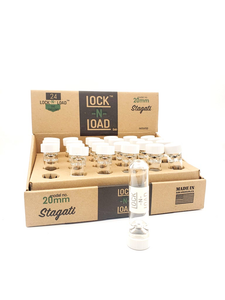 Lock n Load 20mm Stagati
₱49500

₱495.00
Tax included.
---
---
The Lock-N-Load Stagati has been designed for the stoner on the go. 
Each piece is 3.5" in length which is ideal for those who don't want to draw any unwanted attention from nosey onlookers. 
The design is brilliant. The Stagati looks like a blood vial. It's 20mm in diameter and made from thick, durable glass. The top can be unscrewed, revealing a compartment where you will place those fat, sticky buds. The opposite end is the mouthpiece. When your Stagati is not in use it can be capped off so that your nugs are safely stored and their odor is concealed--simply load it, lock it, stick it in your pocket, and be on your merry way. 
The Lock-N-Load Stagati is a game-changer. It will completely change the way you used to view portable buds.
This is an excellent piece for just about any situation you may find yourself in. The next time you're at a tailgate party, or simply any parking lot, your Stagati has got you covered. What's that? You're attending a relative's baptism at the beach, your Stagati has got you covered. Your kid's ballet recital putting you to sleep? Make a quick dash for the exit, because your Stagati has got you covered. 
Hop on the bandwagon and see what all the fuss is about. Purchase yours today and begin smoking in even the most unconventional public of spaces. 
---