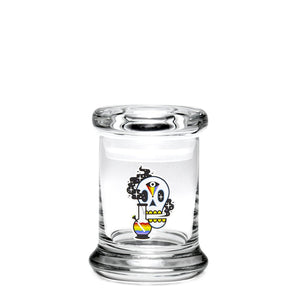 420 Science Pop Top Jar Extra Small - Cosmic Skull
₱85000

₱850.00
Tax included.
---
---
We're excited to feature art from the renowned psychedelic artist Killer Acid in our newest 420 Jar designs. For this collaboration, he's created bold designs that harken back to a time filled with smoke and technicolor.
The Miles of Smiles artwork knows precisely what it's doing. This chaotic good smiley face is high on life and plastering its signature all over the city. The melty face is a classic Killer Acid look and makes this jar trip-friendly keeper.
Don't let the size of an extra small fool you. You'll be surprised about how much bud you can fit in here. In general we stick about an eigth of bud in an extra small stash jar, but you may able to get more than that if your buds are dense.
Pop-tops best quality is their balance of air tightness and ease of opening and closing. You know these jars are keeping your nugs fresh when you hear the pop as you open the lid.
Specs:
Machine Blown Glass
Permanent Glass Decals
Glass Lid w/ Airtight Plastic Gasket
Holds: 1/8 oz (3.5 g) | 3 fl oz (89 ml)
Height: 2.75 in (8.25 cm)
Width: 2.25 in (5.72 cm)
Made in the USA
---