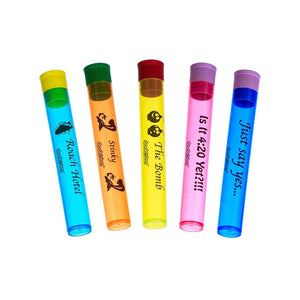 Doob Tubes Funnies - Regular
₱9500

₱95.00
Tax included.
---
---
The Doob Tube is the perfect container for storing your pre-rolled herbs. Small and compact, these innovative storage containers fit neatly in your pocket. Carefully designed to keep your herbs safe and discreet, Doob Tubes are ideal for when you are on the move. Doob Tubes come in two sizes, regular and large, depending on how long you like to roll your herbs. 
The labels including the following:
"Just Say Yes"
"Is it 420 Yet?!!!"
"The Sh*@!!!"
"For My B*tch"
"Stinky"
"The Bomb"
"Chronic"
If you are looking for Doob Tubes with a specific saying from the list above, let us know by leaving a note in the Comments box during checkout, and we will do our best to provide what you requested.
Perfect Storage Solution for Pre-Rolls
Odor Free, Airtight Packaging
REGULAR:

  Measures 4.3″ x 0.55″, and holds up to 1¼-sized papers.

Assorted Colors/ Designs
---