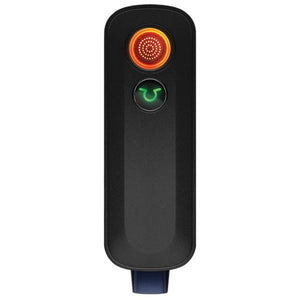 Firefly 2+ Vaporizer- Jet Black
₱13,85000

₱13,850.00
Tax included.
---
---
Features
Instant Convection Heating
3 Second Heat-Up Time
Quick Charging (45 min.)
Borosilicate Glass Vapor Path
2 Year Warranty
Who's the Firefly 2+ for?
The Firefly 2+ is a flavor connoisseur's vape. It takes a touch of technique to get the best results, but when you master this ultra-portable, on-demand convection gem, it delivers some of the best tasting clouds we've come across.
What's new?
Compared to the Firefly 2, the Firefly 2 Plus has 33% more air flow, and the heat profiles have been tweaked to make up for the difference. The hits are bigger and easier to take in. The only visible difference is the new logo that shines through a larger window on the lid.
Instant convection
With on-demand convection heating, the Firefly 2+ vaporizer is always ready to deliver top quality vapor in three seconds. Without the long heat-up times normally associated with convection vaporizers, you're ready for great vapor, any time.
Unbeatable flavor
The Firefly 2+'s borosilicate glass chamber and vapor path shows off clear, amazing flavor from your herbal blends. Combined with the instant convection heating, you get great taste from the start of your session, all the way through to the end.
Personalized temperature control
Out of the box, the Firefly 2+ goes from room temperature to 400F in no time. You can pick a custom temperature with the smartphone app in ten degree increments from 200F, all the way up to 500F, so make room for your concentrates!
Innovative design
The Firefly 2+ is extremely easy to use, with two touch sensors on either side that activate the heater. There's no off switch, the Firefly will go to sleep when you aren't touching the sensors. This latest version comes in at 33% smaller and 55% lighter than the original Firefly, and sports an aerospace grade, magnesium alloy shell.
Quick charge battery
Fully charged in about 45 minutes (up to 80% in about 20 min.), The Firefly 2+ comes with a USB 3.0 charging cradle and one user-replaceable battery. The battery must be in the unit to charge but an external charger is available separately.
Warranty
The Firefly 2+ comes with a two year limited warranty against defects. As with all vaporizers purchased from Planet Of The Vapes, you are also covered by our 100% Satisfaction Guarantee.
What's in the box
Firefly 2+ Vaporizer
One Rechargeable Battery
Charging Dock
USB 3.0 Cable
Three Alcohol Wipes
One Concentrate Pad
User Guide
---