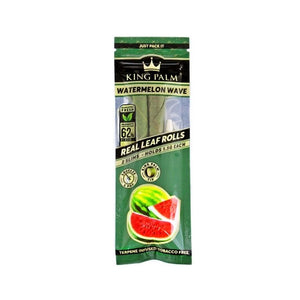 King Palm 2 Slims Watermelon Wave
₱23000

₱230.00
Tax included.
---
---
2x Slims - Holds 1.5g Each
Activate The Flavor Any Time. Simply Squeeze & Pop The Corn Husk Filter On The Top & Bottom. All fusion rolls must be popped twice, squeeze and pop at the tip of the filter to activate one flavor, then squeeze and pop at the top of the filter to activate the other flavor creating a great fusion effect.
Inside each pack contains two of these minty fresh rolls, alongside a bamboo packing stick and a hydrating moisture packet. Each roll holds up to one gram of ground herb, and it burns slowly, smoothly, and coolly. Tobacco-free, chemical-free, and 100% organic, King Palm Magic Mint Mini Rolls are simply a cut above the rest. 
---