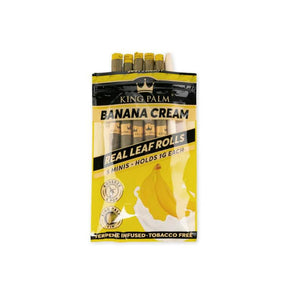 King Palm Banana Cream Mini Pre-Rolled Wraps (x5)
₱65000

₱650.00
Tax included.
---
---
Experience waves of tropical delight with each hit of the infused mini roll from King Palm. Activate the flavour any time. All fusion rolls must be popped twice, squeeze and pop at the tip of the filter to activate one flavour, then squeeze and pop at the top of the filter to activate the other flavour creating a great fusion effect.
King Palm leaves are empty tubes that allow for a very easy filling process with the included bamboo packing stick. These Cordia leaves are tobacco free and do not contain any preservatives, artificial flavours, or glue. The installed corn-husk filter is flexible and allows you to squeeze or bite them as hard as you want to create a flavourful, tighter and cooler draw when smoking.
All King Palm Cordia Leaf Wrappers come with a one-year fresh guarantee, which allows you to store each all-natural leaf wrapper for quite a while.
---