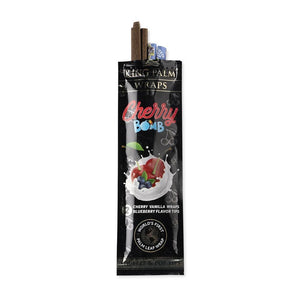 King Palm Wraps Cherry Bomb
₱18000

₱180.00
Tax included.
---
---
2x Cherry Vanilla Wraps
2x Blueberry Flavor Tips
King Palm's flavored wraps are the ideal product for any customer looking for a tasty, tobacco-free option to roll their blunts with! Each pouch includes two wrap leaves and two flavor-infused filter tips. Combining two different flavors in each pouch gives you complete control over the experience and can choose to activate the flavor in the filter or not. 

Cherry Bomb Wraps combine a Cherry-Vanilla flavored leaf wrap with a Blueberry Flavored Filter to create a BOMB of flavor. These wraps combine sweet and sour with tart cherry and vanilla flavors. Introduce that berry flavor by crushing the flavor pearl in the corn filter tip. These flavors were developed to complement the rich, aromatic terpenes in your flower. Wake up your senses with a Cherry Bomb! 
---