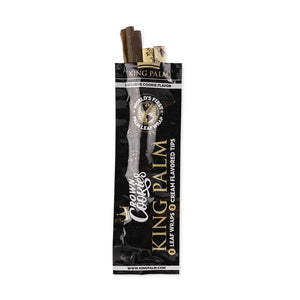 King Palm Wraps Crown Cookies
₱18000

₱180.00
Tax included.
---
---
2x Leaf Wraps
2x Cream Flavored Tips
King Palm's flavored wraps are the ideal product for any customer looking for a tasty, tobacco-free option to roll their blunts with! Each pouch includes two wrap leaves and two flavor-infused filter tips. Combining two different flavors in each pouch gives you complete control over the experience and can choose to activate the flavor in the filter or not.  
The Crown Cookies Wraps were designed for the person who's always down to order dessert. Roll up a tasty treat any time of the day with these delicious blunts that taste like an ice cream sandwich when used with the filters! Each leaf has a chocolate chip cookie flavor, that tastes even better when combined with the crush of the sweet Vanilla filter. These flavors were developed to complement the rich, aromatic terpenes in your flower. Satisfy your munchies with some Crown Cookies! 
---