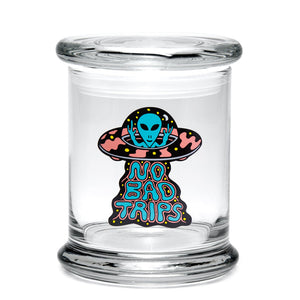 420 Science Large Pop-Top - No Bad Trips
₱1,45000

₱1,450.00
Tax included.
---
---
Killer Weed Jars
We're excited to feature art from the renowned psychedelic artist KIller Acid in our newest 420 Jar designs. For this collaboration, he's created five bold designs that harken back to a time filled with smoke and technicolor.
The No Bad Trips artwork reminds us that set and setting are about the state of mind and state of the environment, trying to have control of both is impossible so it's better to just go with the flow
When you're holding a half-ounce of dank, you owe it to yourself to remember these very important things about the large Pop-Top jar. First, it has a durable base. Second, it pops with freshness every time you open it. And third, High Times called it "the best in herb storage."
Specs:
Machine Blown Glass
Permanent Glass Decals
Glass Lid w/ Airtight Plastic Gasket
Holds: 1/2 oz (15.0 g) | 10 fl oz (300 ml)
Height: 4.5 in (11.4 cm)
Width: 3.5 in (8.9 cm)
Made in the USA
---