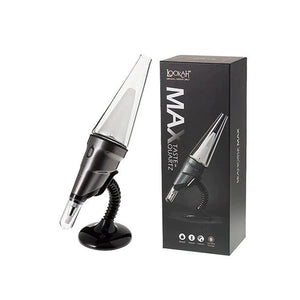 Lookah Seahorse Max Dab Pen
₱6,49500

₱6,495.00
Tax included.
---
---
The Lookah Seahorse Max wax dab pen builds on the success of the Seahorse Pro. 

**To ensure the quartz tip lasts as long as possible, make sure you fully burn all the concentrates off the tip after each dab. If you leave concentrates on the tip or inside the airways it will harden and possibly ruin or wear out the coil prematurely. **

**Don't clean the quartz or ceramic tip with the cleaning brush or any liquids/solvents, as this can damage the tip.**


It takes the pure flavor and convenient vaping experience of the seahorse range to the next level. The addition of a glass bubbler means your rich, creamy vape takes a cooling spin before hitting your throat.
The Seahorse Max percolator dab pen is great for ripping massive dabs without the scorching heat and coughing fit typical with a regular nectar collector or vape pen. 
The 510 cartridge thread ensures like the Seahorse Pro, you can use Lookah's premium quartz or ceramic coils. It is also compatible with all other 510 thread cartridges, so you can vape CBD oil carts and get a cooling hit from them as well. Packed with a 950mAh battery it ensures you'll get to enjoy several sessions before needing to recharge. 
As with most vapes and dab pens, the Seahorse Max is activated by pressing the button five (5) times in quick succession, cycle through the three temperature modes by pressing the power button two (2) times.
Low 3.2V (green), medium 3.6V (blue), and high 4.1V (purple) temperature modes
The Seahorse Max features two modes. A manual mode and an auto mode; for the manual mode, just set your chosen temperature, press and hold the power button to dab for up to 20 seconds. The auto mode starts by pressing the power button three (3) times within 1.5 seconds. 



Kit comes with
1 Seahorse Max Dab Pen
1 Removable Seahorse Max Glass Percolator
1 Stand Assembly
1 Mouthpiece Tip Stopper
2 Quartz Tip/Coils
1 Cleaning Brush
1 USB Cable
1 Tip/Coil Cover
1 User Manual
Specifications/Features
1) Battery: 950mAh
2) Fast heating up
3) Easy to Clean
4) 510 Thread Compatability
---