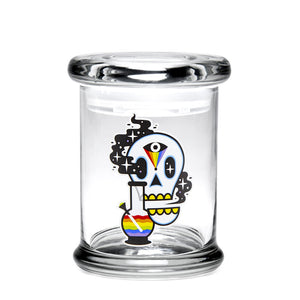 420 Science Medium Pop-Top - Cosmic Skull
₱1,25000

₱1,250.00
Tax included.
---
---
Winston The Whale
Winston The Whale's famous tattoo art is made with bold colors and iconic imagery. His 3D and psychedelic inspired illustrations are ideal for 420 Jars. Each of these designs beautifully expresses the cosmic and mindful side of the cannabis lifestyle with a retro and cartoon style.
We are all made of star stuff. When you take a big toke from your pipe and contemplate the meaning of the universe, take a look at this design and remember that you're just as much a part of the cosmos as anything else is. Open your mind and enjoy the ride.
Every pop-top jar has a durable base and pops with freshness every time you open it. And third, High Times called it "the best in herb storage."
Specs:
Machine Blown Glass
Permanent Glass Decals
Glass Lid w/ Airtight Plastic Gasket
Holds: 1/3 oz (10.0 g) | 7 fl oz (200 ml)
Height: 4.0 in (10.0 cm)
Width: 3.0 in (7.6 cm)
Made in the USA
---